The KAKEN Group delivers value to society and contributes to achieving a sustainable society by practicing its corporate philosophy: "KAKEN helps improve the quality of life of patients by serving as many people as possible to return smiles of happiness to their faces, through supplying superior pharmaceuticals." We believe that this will lead to the sustainable growth of the Group. In order to set out the challenges and initiatives in achieving this objective, we have identified priority issues related to the KAKEN Group's future value creation.
Process of Identifying Priority Issues
STEP
01
Identify medium-to-long-term social issues
To determine the priority issues to be addressed through KAKEN's business activities, the Corporate Planning & Coordination Department and the General Affairs Department first identified social issues, taking into account, among other factors, the status of the Company's business, management plans, GRI Standards, and ISO 26000.
STEP
02
Consider priority issues based on the social issues we want to solve
We identified and mapped social issues on two axes: "Relevance to KAKEN's business" and "Impact on stakeholders" in order to narrow issues down to those with a high degree of importance. From these, we compiled priority issues, their associated risks, opportunities and main initiatives, taking into account KAKEN's business philosophy.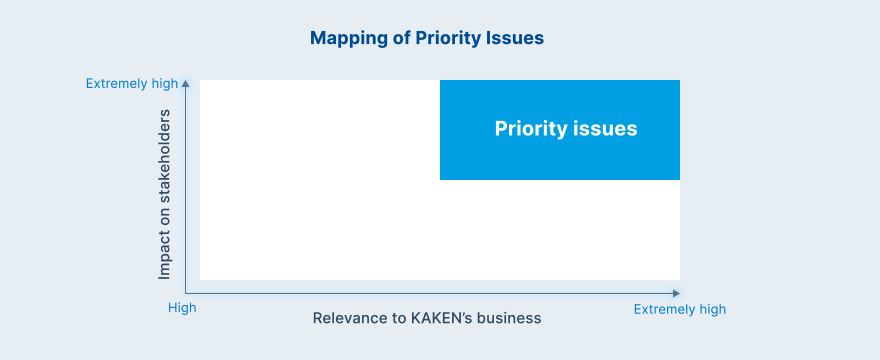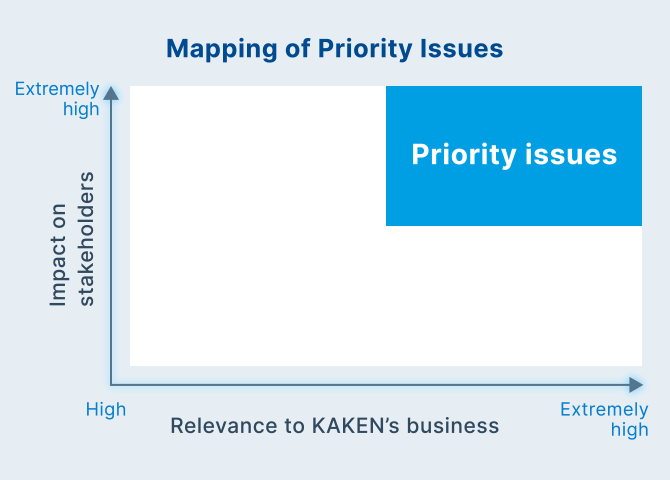 STEP
03
Consider management policies (Management Meeting)
The items selected were deliberated by management and designated as priority issues for the KAKEN Group.
STEP
04
Review issues in light of operating environment changes
These priority issues are reviewed in light of changes in the Company's operating environment, progress of initiatives and stakeholder opinions collected through dialogue.
Priority Issues
Please click and hold the mouse pointer on the chart to view.
Please click and hold the mouse pointer on the chart to move it right or left.
Business Philosophy
"Three Joys"
Priority Issues
Associated Risks and Opportunities
(Risks: , Opportunities: )
Main Initiatives
Related SDGs

"Joy for patients"


We strive to create and supply efficacious drugs that satisfy the needs of patients and medical professionals.

Contributing to medical solutions

Creation of innovative new drugs that satisfy unmet medical needs
Provision of pharmaceuticals with proven health economics
Partnerships, and others with domestic and overseas companies

Insufficient development pipeline
Changes in healthcare policies and market trends
Fulfillment of unmet medical needs
Contribution to society and heightened Company presence through development of innovative drugs

Focus management resources on research and development
Promote alliances with overseas companies and others (for in-licensing of products under development, out-licensing of in-house products, joint research and other purposes)

Fulfilling responsibilities as a pharmaceutical company

Stable supply of high-quality pharmaceuticals with proven safety
Activities to provide accurate information
Intellectual property strategies

Decline in corporate value due to disruption in supply of pharmaceuticals
Impact of intellectual property risks on business
Suspension of sales due to inappropriate activities
Maximization of product value through stable supply and provision of useful information

Maintain domestic and international standards for good manufacturing practice (GMP)
Contribute to better medical treatment by improving product value in ways such as generating evidence
Utilize digital tools and other means to establish efficient systems for delivering information
Global intellectual property strategies

"Joy for society"


We recognize our social responsibility as a pharmaceutical company, engage in all activities with high ethical standards, and aspire to earn society's trust.

Strengthening corporate governance

Strengthening relationships with stakeholders
Promotion of compliance
Risk management to ensure business continuity

Decline in stakeholder trust
Disruption of supply chain
Increased risk of violations of laws and regulations, misconduct and other inappropriate actions
Earning stakeholder trust

Strengthen governance framework
Appropriate and timely information disclosure and dialogue
Training and education in compliance, risk management, and relevant laws and regulations
Contribute to local communities (participation in activities such as local beautification and disaster relief support)
Develop/Update disaster and pandemic response plans

Consideration for the environment

Proper management of waste and wastewater
Efficient use of water and other resources
Reduction of CO2 emissions
Supply of eco-friendly agrochemicals

Disruption in production due to factors including depletion of water and other resources
Decline in public trust due to insufficient efforts
Cost reductions from energy conservation initiatives
Contribution to global food safety

Roll out environmental management system
Maintain ISO 14001 certification (Shizuoka Site)
Continue CO2 emission reduction initiatives
Research and development of eco-friendly agrochemicals

"Joy for employees"


Our objective is to become a company with vitality and presence whose employees enjoy and take pride in their work.

Creating fulfilling workplaces




Generating and maintaining employment opportunities
Work-style reform and improved productivity
Employees' health, occupational safety and welfare
Diversity
Development of the next generation personnel
Respect for human rights

Outflow of personnel
Labor issues
Decline in productivity
Corporate growth from increased employee fulfillment and motivation
Hiring and retention of talented personnel

Work-style reform (including digitalization of work processes)
Appoint female directors
Enhance systems for employing people with disabilities and seniors
Protect employees against disease and promote mental healthcare initiatives
Training programs, self-development support and discrimination/harassment prevention